Welcome Message from the School Director
---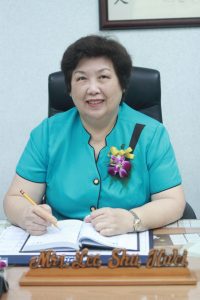 Greetings!
I am honored and excited to welcome everyone to PIQC!
PIQC has a lot of things in store for the students which will entail changes and challenges as we continue to devout serious effort on providing well-balanced and high quality education.
We are lucky to be working with institutions like the Filipino-Chinese Chamber of Commerce in Quezon City and the PIQC Board of Trustees whose support enable us to aim higher and go beyond the parameters of teaching and forming our students in accordance to the PIQC's mission and vision as wel as that of our school's philosophy.
Through the combined effort and assistance of our parents, teachers, and alumni we hope to form students who are Globally competitive, Innovative, Adaptive, Nationalistic, Technologically skilled, and Socially responsible PIQCians (G.I.A.N.T.S.) who can excel in their own chosen fields.
For the past 3 years, the following have been PIQC's major breakthrough:
With the approval of DepEd, PIQC now offers extensive programs for Grades 11 and 12 under the STEM, ABM, and General Academic Strands.

Our laboratories in chemistry, physics, and biology are world class. There is a one-to-one ratio of student-computer in the three-computer laboratories. We have both an English and Chinese libraries for Elementary and High School. These new facilities form as supplements to aid the students in the learning process, and apply what they learn in the most conducive and up-to-date environments.

Marissa F. Ayson has brought to PIQC systems and strategies learned from her seventeen years at the Ateneo de Manila High School.

We have a deliberate use of technology and continuous teacher training and to be at par with the globally competitive world.

To further develop students' character, PIQC also inculcates the teaching of Chinese Culture in our hope to meet our objective of forming a holistic individual immersed in a diverse Filipino-Chinese community. Thus, the school has been awarded recently as the "Best Model School in Chinese Education" by the Overseas Chinese Affairs, Office of the State Council, People's Republic of China.
While we focus on the core of academic excellence to our educators and the students, we feel that it is equally important to build the students' values and character. Because of this, equal attention is given to teachers and students' formation.
Once again, welcome to Philippine Institute of Quezon City.  We will ensure your child's future because this is the school where GIANTS are formed!