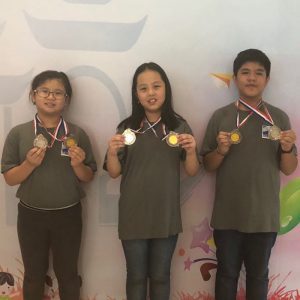 Three of PIQC pupils were selected by the Mathematics Trainer's Guild, Philippines to join other participants from other school in the lineup of young Filipino mathematicians to represent the Philippines in the 2018 China Primary Math Olympiad which was held in Zhejiang Province, China last July 27 – August 1, 2018 and won awards.  The said contest is divided into two Individual Contest and team relay contest. Erin Megan Chao of Grade 4- Justice and Jann Denise Huang of Grade 5- Honesty both won Bronze Award for the Individual Contest and Silver Award for the Team Relay Contest. Euan Veniz Caisip of Grade 7- Patience won Silver Award for Individual Contest and Bronze Award for Team Relay Contest.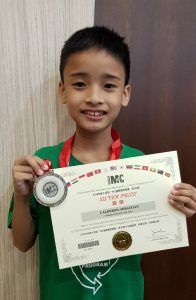 Also from the MTG website, another article was wtritten by Mr. J. Esplanada , "…The Philippine team has beaten Asian mathematics powerhouses China and Taiwan to emerge as overall champion in the Singapore International Math Contest (IMC-SG), held July 27 to 30 in the "Lion City." The young Filipino numbers aces from public and private elementary and high schools nationwide won a total of 197 medals: 27 golds, 54 silvers and 116 bronzes in the 14-nation contest…". Among those awardees, a representative from PIQC, Sebastian Barcelona Calderon of Grade 5- Honesty bagged a Silver Medal.
Congratulations. The whole PIQC family is proud of you!
Written by Ghia R. Relucio