The Grade 12 morning graduation ceremonies was held on 6 April 2018 with the theme K-12 Learners: Ready to Face Life's Challenges. The Guest speaker was Dr Cecilio K Pedro, CEO of Lamoiyan Corporation and President of the Filipino-Chinese Chamber of Commerce in Quezon City. He called his s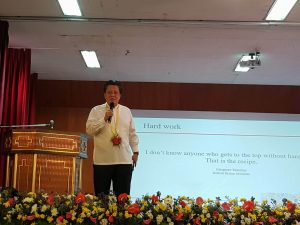 peech "Hamon" and enumerated 5 ways by which the students can deal with challenges. The 5 different ways of meeting challenges are, namely, (1) hard work (2) advocacy (3) time management (4) optimism and (5) Never give up. Dr Pedro emphasized that it was because of hard work that the Lamoiyan Corporation was built and competed with the giant corporations of Colgate and and Unilever. Lamoiyan Corporation is the only company that employs people who are deaf. Time management is an important factor in facing challenges to be able to accomplish much in a short period of time. Dr Pedro said that it is important to look at the positive side of things and never to give up when failures are encountered.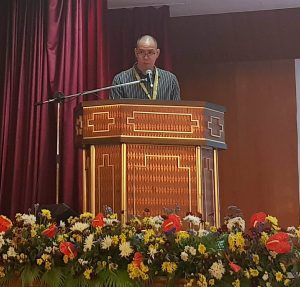 Sandy Arespacochaga was the guest speaker for grade 10 completers. He is currently the assistant coach both of the Ateneo de Manila University Men's basketball Team and NLEX Road Warriors in the PBA. Mr. Arespacochaga outlined how preparation in basketball can help the completers in the challenges they face in the Senior High School. He said that working hard and being disciplined are the core values that would help the students in the senior High School.  
The guest speaker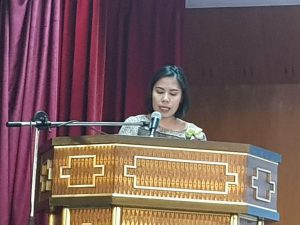 for the Grade 6 graduation was Ms Janice F Antonio, COO & CEO of Pillars Tutorials. Prior to her new role, Ms Antonio was a teacher at the Ateneo de Manila High School where she also served as Math Coordinator. She outlined three ways of attaining success, namely, — (1) Where you're meant to go, (2) How you will get there, and (3) Why you'd want to go in the first place.
Full text of the speeches of Mr Arespacochaga and Ms Antonio are published here.