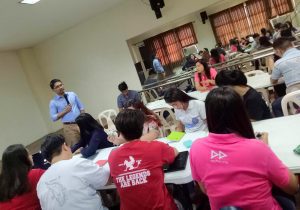 "Blended Learning with the iPad" was the focused of the recently concluded PowerMac boot camp at PIQC's Little Theatre, 8:00 am- 3:00 pm, last May 4, 2018. Blended learning is a hybrid teaching methodology where online digital media is combined with traditional classroom methods. The teacher training was attended by all the teachers from the English Department. PowerMac team solely discussed the relevance of blended learning with the use of Apple applications.
Mr. Bon Atienza, the speaker and facilitator from PowerMac gave focus on the learner's engagement to learning that involve the following: (1) the effectiveness, engagement and efficiency of blended learning (2) Content which involves a more dynamic type compared to the traditional which is static, and (3) Human interactions pertaining to the onsite and online interaction. Insights were also given on the qualities of a good blended learning curriculum including the learning management system, defined course outline, learning aesthetic, communication and well-equipped teacher. Different iPad educational features were also presented that described the specific features per subject area.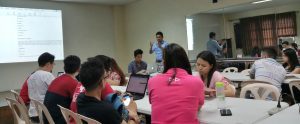 The boot camp ended with a workshop activity. The teachers were grouped according to subject areas. Each group were guided to recreate a blended lesson plan which includes the transformation of the traditional to blended learning of each of the different Subject areas. Representatives from each group presented their output which were processed by Mr. Atienza. The boot camp was able to enlighten the teachers towards the importance and effectiveness of creating blended learning plans for a more effective learning style. Though challenging,  it will create a great avenue for a dynamic and cooperative classroom learning.
Written by: Mary Grace F. Rago