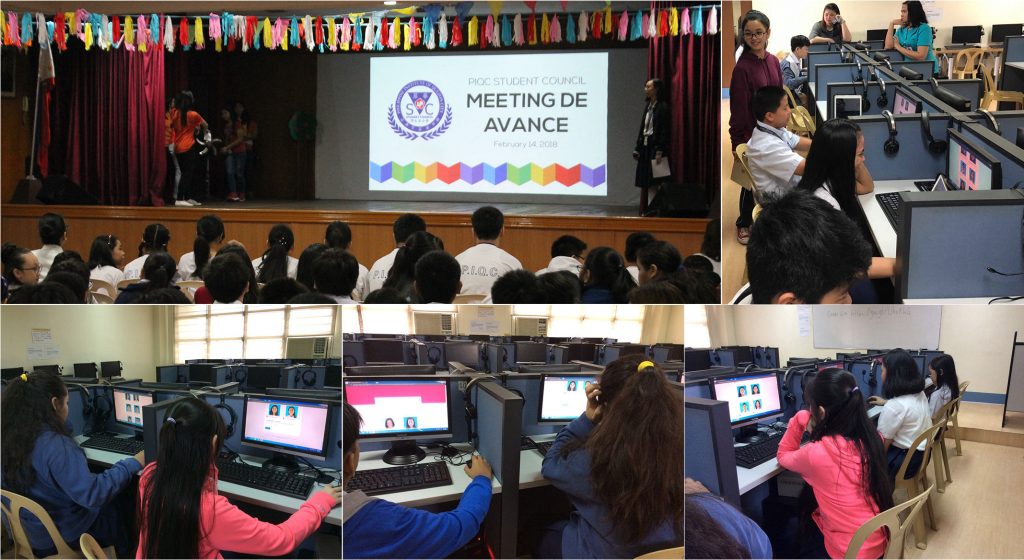 On February 20, 2018, the PIQC student body has voted for their next set of Student Council officers for the Academic Year 2018-2019. For the first time in PIQC history, the Student Council Elections were held online, where Grade 5 and 6 pupils voted in the Computer Laboratories, while the students from Grade 7 to 11 stayed in their rooms and utilized their iPads to cast their votes.
The Student Council, as well as the APSAF Council, has decided to push through with online elections this year after much deliberation and planning. This was done to eliminate the need for manual vote counting which will be subject to errors, as well as to minimize waste products such as the paper ballots that will just be thrown out after the election.
Eight students who garnered the highest votes will be considered as part of the Student Council Executive Committee (ExeComm) for the next school year. The eight students are as follows:
Calderon, Ysabel
Chao, Francesca Mikaela
Midel, Renee Charlize
Tan, Lyra Sophia
Culang, Neil Angelo
Ongching, Sherry France
Sy, Ricci Danelle
Yu, Jonelle Vicky
Three students from Grade 5 to 7 were voted as Batch Representatives by their classmates. These are the following:
Co, Fallon Kynan
Salem, Stefanie Khyellae
Javellana, Calliandra
The remaining eight students who failed to get in the ExeComm will automatically be the representatives for their batch. Their names are as follows:
Cheng, Genevie Alexis
Hernandez, Sophia Isabelle
Ng, Neia Jin
Sy, Faustine Eileen
Awel, Lea Grace
Chua, Joy Nicole
Ong, Rhafhael
Shih, Keaton Theodore
A total of 231 students cast their votes for the SC Elections held last Tuesday.